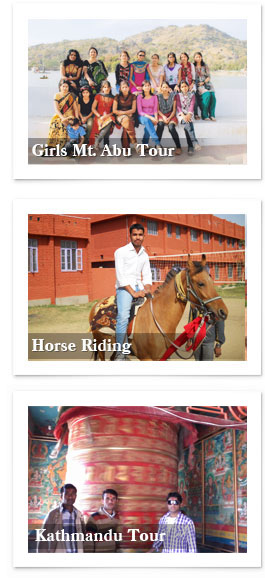 Industrial Visits :
Industrial visits are organized for the students of various courses to give them first hand information about the organization and working environment. The students have visited:
• Hindustan Zinc, Udaipur
• Secure meter Udaipur
• IIT Delhi
• Sipani Automobiles Banglore
• Nirma University etc
Community Service :
The college undertakes the various social activities to broaden the spirit of social services among the youth. The activities which are successfully carried out include:
• Bird Protection (Parinda)
• Plantation
• Blood Donation Camp
• Republic Day
• Independence Day
• Voluntary Service in Eye Camp and surgical camp organized by the trust
Capsule Course :
We organized capsule course for new students in which the student will be familiar with the environment of the college, daily routine activities and studies
Personality Development :
To improve GD characteristics in students, group discussions are regularly held and the program being organized by the professionals.
Awards :
The students of the college who secures highest marks in their faculties in the final exams of BCA, BBM, B.COM, PGDCA & MCA shall be awarded in annual function of the college.
Career Counseling :
Awareness of the career opportunities is the key to successful career planning. With the aim, the college arranges seminars and workshops conducted by various training institutes and corporate houses. During the last academic year, resource persons from various organizations held interactive sessions with students.
Spiritual and Relaxation Exercise Session :
Daily one hour spiritual class on
"Samikshan Dhyan"
and relaxation exercise is held, that empowers the student to know oneself and develop the confidence, ethical values and empathy to serve the society. Daily Activities to improve GK, World Power, Technical window and news is also organized along with this session.